age 8.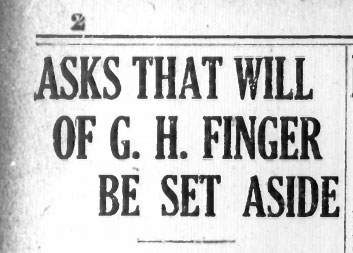 Alleging fraud, unsoundness of mind, illegality and undue influence,
Robert B. Custree
, of the village of Ballston Spa, Saratoga County, today filed a petition with Surrogate Daniel Gleason to have the will of
Gilbert H. Finger
, of this city set aside. Custree, a nephew of the dead man declares that the estate of $3000 personal property, was willed to
Daniel Finger
, of Poughkeepsie, through the influence Finger brought to bear upon the mentality, of his brother, Gilbert Finger.
The Saratoga County man asks that the proceedings be dismissed with costs and that the $3,000 estate be divided among the fifteen nephews, fifteen nieces and one brother, who are all heirs-at-law. Divided among the 31 expectant heirs, the estate would give something like $96 to each.
Through Edward S. Coons, an attorney of Ballston, Custree makes four allegations. His petition filed this morning reads:
"I, Robert B. Custree, nephew to the deceased, heir-at-law and next of kin, claim that the will filed in this court, dated January 21st, 1915, was not the last will."
"The will was not duly executed, published and declared."
"On January 21st, 1915, Gilbert H. Finger was not of sound mind and mentally incapable of making a will."
"The execution of the alleged will, if the same was ever executed, by the testator, was secured by fraud and undue influence, whereby the interest and purpose of the testator in making the testamentary disposition of property was overcome and destroyed and the desires and purposes of
Daniel Finger
, the testator's brother, and Etta Finger, one of his nieces, were substituted."
The dead man's will leaves all his property to "Daniel Finger, my well beloved brother." In case of Finger's death it is provided that all the property shall go to his wife,
Etta Finger
.
The fifteen nephews and fifteen nieces are scattered all over the country. -
The Evening Enterprise
April 17, 1916