We learn from the Red Hook Journal that Mr.
Adam Fingar
, a resident of this County, made a note endorsed by his son for $700, payable one day after date, and passed the same to to First National Bank of Redhook,- promising to take it up the next day, either with money, or, if he wanted more time on it, to give a new note endorsed by his brother,
German Fingar
.
Pursuant to the understanding, the two Fingars, Adam and German, appeared at the Bank on the 22d, and requested to make the new note spoken of. While the Cashier was preparing the new note, Adam Fingar fraudulently seized the note for $700, and they then abruptly left the Bank.
A warrant was issued by Justice Paulmler on complaint of J.S. Crouse, Cashier, for his arrest. -
The Daily Register
Hudson, NY, Sept 28, 1869
Adam was president of the Livingston Farmer Aid and Fire Protection Association 1864-66 and 1877-81. - Lee J. Fingar
Found him on the 1860 Livingston, Columbia, New York census (img 45) age 40, farmer.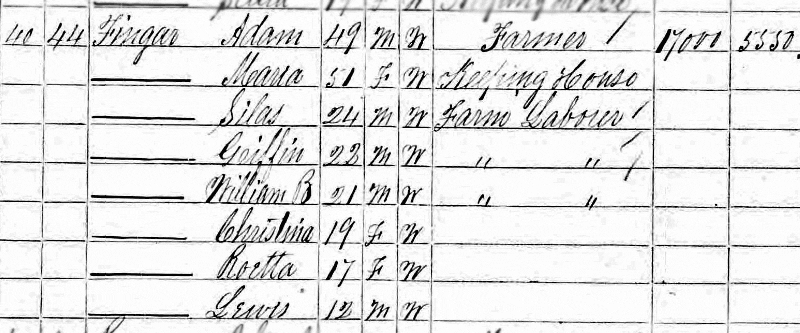 Found him on the 1870 Livingston, Columbia, New York census (img 6) as
Adam Fingar
age 49, farmer.
Found him on the 1875 Livingston, Columbia, New York state census (img 1) as