The Life and Career of
Abraham Finger
This is the account of the career of Abraham Finger, who was born in Russia in 1889, from a collection of newspaper articles. Abraham's father Samuel Finger came to the U.S. in 1890. Samuel's wife and children, including Abraham, came to the United States in 1896. The events are presented in chronological order.
● 1900 First seen on the Newburg Ward 5, Orange, New York census (dist 41 img 31) as Abraham Finger age 11.
● 1910 He is on the Newburgh Ward 1, Orange, New York census (dist 46 img 9) as Abraham Finger age 21. Salesman, dry goods.
● 1915 Abraham Finger, formerly of Newburgh, recently of Peekskill, and Miss Bella Greenfield, a sister to Mrs. Isadore Wolff, of Peekskill, were married at 1 p.m. Sunday by the Rev. Simon Friedman, assisted by the Rev. Philip Evens, both of New York City.
The ceremony was performed at the Westminster, Lenox avenue and 114th street, in the presence of a large gathering of relatives and friends.
There was a dinner and reception from 3 until 6 p.m. A large orchestra furnished music.
The bride wore white duchess satin trimmed with pearls and carried a hower bouquet of lilies of the valley and white roses.
Miss Gertrude Evens was the flower girl.
The bridesmaids were Miss Pearl Finger, of Union Hill; Miss Esther Wolff, of White Plains; Miss Sadie Waterman, of Brooklyn, and Miss Esther Braunstein, of Peekskill.
The ushers were Karl Gropper, of New York; Morris Wolff, of White Plains; Samuel Finger, of Newburgh; and Nathaniel Simon, of Newburgh.
Mr. and Mrs. Finger will reside at 424 Dyckman street, Peekskill.
Among those present from Peekskill were Mr. and Mrs. Isadora Wolff, Mr. and Mrs. Jacob Soloman, Miss Nellie F. Kegan, Miss Nora Hurley and others. Highland Democrat Peekskill, New York Sat June 26, 1915
● 1918 Jack Gropper and Abraham Finger former employees of the Ivy Department store, started in a similar business in the store at 21 South Division street, the middle of March, under the name of Finger & Gropper. - The Highland Democrat, January 5, 1918
● 1918 Abraham Finger has bought out the interests of Jacob Gropper in what was known as the Finger & Gropper store on Division street and will continue it as the Finger Department Store. They are making special preparations for a big holiday season. Watch for their advertisements. - Highland Democrat, Dec 7, 1918

● 1928 Heard And Seen At $500,000 Fire Ruins
... Abraham Finger who had the womens and childrens wearing apparel store in the Kelwyn Building placed his loss at $20,000. He is said to have carried $19,000 insurance so was practically covered. He has leased the east store in the Halsey building, 906 South street, recently used by a chain store. The latter moved Tuesday night to the adjoining store on the west in the same building. The east store will be cleaned, renovated and newly shelved. Mr. Finger expects to open on Saturday, March 24th.
Mr. Finger had been in the Kelwyn Building eleven years. He had at the time of the fire two employees, Alice Martin and Amelia Pissani. They will have a short vacation, then assist Mr. Finger in arranging stock in the new store and continue in his employ.
Mr. Finger had no safe. Some of his records were at home. Those in the store were burned. As he did principally a cash business his bookkeeping was not extensive.
The fire was well unuer way before Mr. Finger saw the flames from his home on corner of James and Cortlandt street. He had been up to wait upon his son who had a bad cold when he saw the reflection in the sky and lost no time in reaching the scene. - Highland Democrat March 10, 1928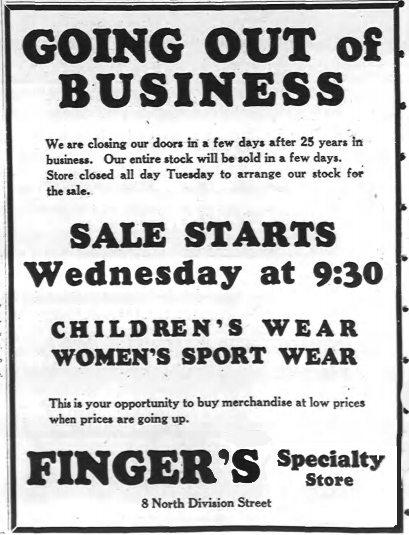 ● 1928 Abram Finger will open his new specialty store in the Halsey Building in South street next Tuesday, March 27, as noted in a large showy advertisement on page 6 of this issue. To the day and date it will be just eleven years since Mr. Finger opened his store in the Kelwyn Building which burned down on March 2. - Highland Democrat March 24, 1928
● 1929 Abraham Finger, of 1100 Cortlandt street, proprietor of the Finger store, on South street, has bought from Miss Emma I. Hudson, of Nelson avenue, her business property on the north side of Main street, near Cryptic Lodge building.
The Hudson property having a frontage of some forty feet and considerable depth is now occupied on the first floor by Sager's Courtlandt tire shop and the Singer Sewing Machine Co. office and shop over the Sager store are apartments one story.
Mr. Finger purchased the property for investment. - Highland Democrat, August 7, 1929
● 1937 Abraham Finger, proprietor of Finger's Department store on North Division Street had the misfortune of falling at his store and injuring his wrist Wednesday. An X-ray revealed a fractured bone in the wrist and his arm is now in a plaster cast. - The Evening Star January 29, 1937
● 1941 And here's where our story ends (The Evening Star September 2, 1941) > > > > > >
● As far as we can tell, Abraham passed away in March of 1971.