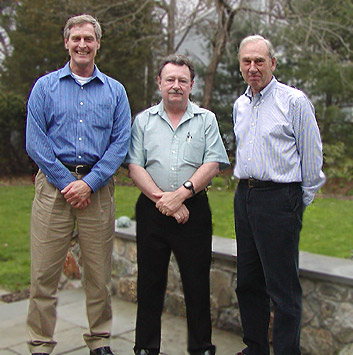 Lee
was the driving force and organizer behind the very successful
Finger/Fingar Family Reunion
in 2003, which was appreciated by all in attendance.
Found him on the 1940 New Castle, Westchester, New York census (dist 60-200 img 20) as
Lee Jamison Fingar
age 6.
Lee Jamison Fingar
, son of
Mr. and Mrs. Elmer Lee Fingar
of Pine Cliff Road, Chappaqua, left for Army duty this morning. A graduate of Horace Greeley High School and Cornell University, he has enlisted for military service and will be sent to New York City for relocation. At Cornell he majored in industrial and labor relations and before entering military service worked at the General Motors plant in North Tarrytown. -
New Castle Tribune
August 11, 1958.
Lee Jamison Fingar, a 41-year Darien resident, died Tuesday, July 17, following a battle with cancer. He was 73.

Born Oct. 21, 1933 in Mt. Kisco, N.Y., Mr. Fingar was the son of the late Elmer Lee and Adelaide Kolwes Fingar and grew up in Chappaqua, N.Y. He obtained his higher education from Cornell University (1955) and and Harvard Business School (1959) and worked professionally for various businesses and as a self-employed consultant for financially troubled companies. He served as president and treasurer of his Cornell class.

In retirement, he greatly enjoyed working as a substitute teacher at Darien High School. Additionally, he was an active member of the Darien RTM, the Republican Club of Darien, the Middlesex Genealogy Society, and the Darien Green Team and founded and served as President of Save Darien's Wetlands.

His hobbies included recreational bicycling with the Sound Cyclists and riding for various fundraising organizations, as well as American antiques and wine.

Mr. Fingar is survived by his wife, Helen Lassila Fingar, two daughters, Diane Christine Fingar of Ann Arbor, Mich., and Erica Lee Fingar, of Marietta, Pa., two sisters, Jane Fingar Branigan of Darien and Carol Fingar Maloney of New Hope, PA, as well as four grandchildren and seven nieces and nephews. - Darien News-Review July 19, 2007