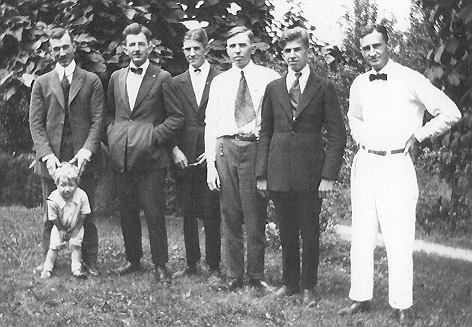 According to the Connecticut Death Index, he died in Florida.
Elmer
was an attorney practicing in White Plaines, New York. He was former Chief Clerk of the Surrogate Court, County of Westchester, New York and with David Bookstaver the author of
New York State Wills and Testamentary Trusts
. - Lee Fingar
Elmer L. Fingar, of Chappaqua, Westchester county, deputy clerk in Surrogate Charles D. Miliard's court, has been appointed chief clerk of the court, effective January 1, with the retirement of William O. Clark, of Tarrytown, employe of the court for almost 28 years and chief clerk for fourteen years. The position carries a salary of $6,300 a year.

Mr. Fingar is an attorney. He entered the Surrogate's office in 1936, was dropped from the staff during the regime of Judge Shells, but when Surrogate Miller went on the bench, he was reappointed deputy clerk.

He was born in Germantown and was educated at Cornell University, where he obtained his A.B. degree in 1923 and his LL.D. in 1928, after which he entered the law fiim of Cotton and Franklin, New York City. He later entered practice as a junior partner in Tricknor and Tricknor, Mt Kisco, and in 1936 was appointed deputy clerk of the Surrogate's Court.

He is married and has three children. He is a member of the Masonic order, belonging to the Mt. Kisco Lodge as a trustee of the Congregational church of Chappaqua and director of civilian defense in New Castle. Mr. Fingar was graduated from Hudson High school and is the son of the late Peter and Augusta Fingar, of Germantown. - Hudson Evening Register November 29, 1941
Found him on the 1905 Germantown, Columbia, New York state census (E.D.01 img 4) as
Elmer L. Fingar
age 4 months.
Found him on the 1910 Germantown, Columbia, New York census (dist 12 img 9) age 5.
Found him on the 1920 Germantown, Columbia, New York census (dist 17 img 3) age 15. Found him on the 1930 Pleasantville, Westchester, New York census (dist 190 img 17), age 25, lawyer.
Yearbook
Found him on the 1940 New Castle, Westchester, New York census (dist 60-200 img 20) as
Elmer Fingar
age 35, deputy clerk, county gov't.