Found him on the 1930 Lancaster, Lancaster, Pennsylvania census (dist 57 img 34) as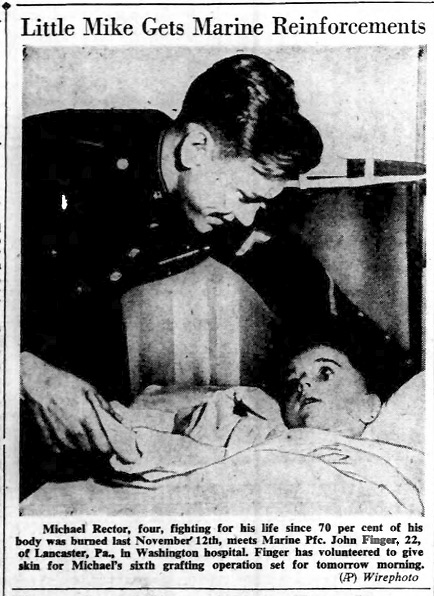 John was born and raised in Lancaster, Pa. to the late
John Constantine Finger
and
Ada Lefever Finger
. John is the last of his immediate family.
He was preceded in death by his three sisters,
Ethel Martin (Harold), Blanch Shuman (Amos), Catherine Tretter (Joseph)
, and his son,
Robert Roy Finger
and his brother
Robert L Finger
.
He is survived by two wonderful children,
John DeWitt Finger
, (Retired in Arizona),
Cassie Irene Burns (Keith)
, Las Vegas NV, his daughter in law,
Denise Finger
, retired, Lancaster PA. Along with 11 grandchildren and 19 great-grandchildren.
John attended J.P. McCaskey High School and he later obtained his G.E.D. With his parents' permission, John lied about his age and enlisted in the U.S Navy Seabees and was sent to the Philippine Islands where he received his Battle Star. After he was discharged from the Navy, at Bainbridge, MD, he returned to Lancaster. He had several jobs in Lancaster and became restless.
John enlisted in the U.S. Marine Corps, and after training, he was sent to the Headquarters Marine Corps, Arlington, VA. While there, he read in the newspaper of a little boy, who was burned over 40 percent of his body. John donated his skin to help the boy.
While in the hospital, some friends came to visit and along with them was a beautiful young lady by the name of
Pauline Scott
. She was a secretary for an Admiral working in the Pentagon. John sat up in bed, pointed his finger at Pauline, and said "I'm going to marry you". A year later they were married in Lancaster by Rev. Alspach at St Paul's Reformed Church. They were married for 66 wonderful years.
After being discharged from the Marine Corps, John and Pauline moved back to Lancaster, where John became a Lancaster City Police Officer for twenty-five years and started the first and original K-9 Corps, where he received his training with the Baltimore police department.
After retiring from the police department, they moved to Las Vegas, NV, where he became an investigator for the Clark County District Attorney's Office. Pauline became a secretary for a General at the Nellis Air Force Base.
After retiring, they spent the rest of their time traveling.