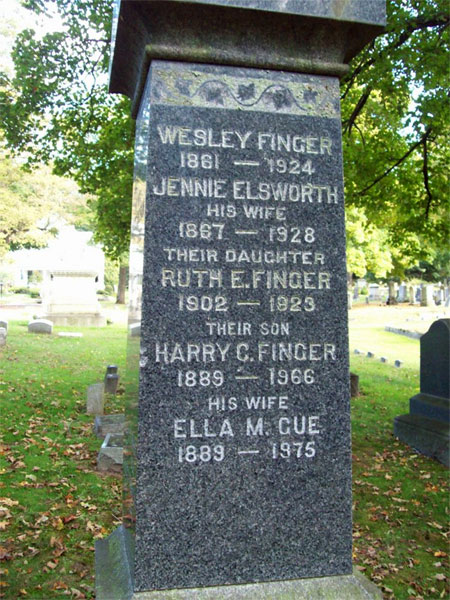 Jane Elizabeth Elsworth
- Judy Finger Brown
Found her on the 1870 Kingston, Ulster, New York census (img110) as
Jane
, age 3.
Found her on the 1880 Kingston, Ulster, New York census (dist 134 img 43) as
Jennie
, age 13.
Found her on the 1910 Kingston, Ulster, New York census (dist 141 img 25), age 41. Father, mother born New York.
Found her on the 1920 Kingston, Ulster, New York census age 52.
Jennie Elizabeth Ellsworth, wife of the late Wesley Finger, died at the City of Kingston Hospital this morning. Funeral at the late residence, 17 South Wall street, Saturday at 2:30 p.m. Interment in Wiltwyck cemetery. She is survived by four, children, Harry C., Edwin E., Mrs. Bertha May Wands and Wesley D. three sisters, Miss Henrietta Ellsworth, Mrs. John Perry, Mrs. James Bose, and one brother, Charles Ellsworth. The Kingston Daily Freeman December 6, 1928
NOTICE TO CREDITORS - In pursuance of an order of Hon. GEORGE KAUFMAN, Surrogate of Ulster County, notice is hereby given, according to law, to all persons having claims against
Jennie Finger
, late of the City of Kingston, County of Ulster, deceased. Intestate, to present them with the vouchers in support thereof. I The undersigned,
Wesley D. Finger
and
Bertha May Wands
, the Administrators of the case of said deceased, at 17 S. Wall street, in the said City of Kingston, on or before the first day of July, 1928. Dated, December, 1928
WESLEY D. FINGER
BERTHA MAY WANDS
Administrators, %c of Jennie Finger, Deceased.