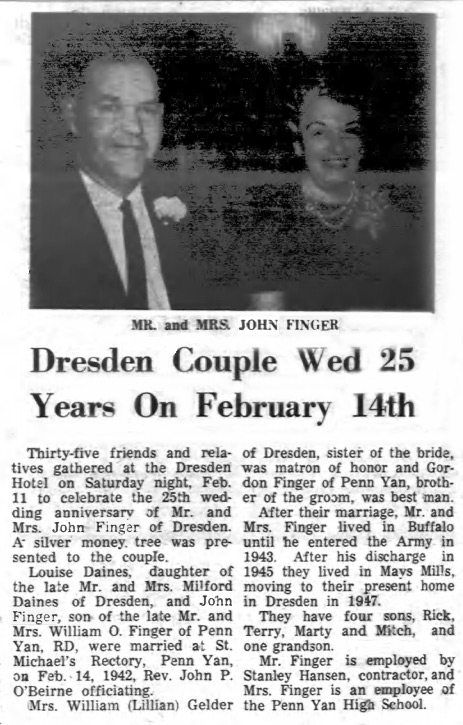 Found him on the 1920 Milo, Yates, New York census (dist 179 img 7) as
John Finger
age 4 years 9 months.
Found him on the 1940 Milo, Yates, New York census (dist 62-16 img 6) as
John Finger
age 24, single, living at home. Laborer, paper mill.
Dresden, Feb. 18 - John Finger, son of William Finger of Penn Yan, and Miss Louise Danes, daughter of Mr. and Mrs. Milford Danes of Dresden, were married Saturday Feb. 14th, at 10 a.m. at St. Michael's rectory in Penn Yan. They were attended by Mrs. William Gelder, sister of the bride, and Gordon Finger, brother of the bridegroom. Mrs. Finger has been employed at the Grant store in Penn Yan for several months and Mr. Finger has a position in Buffalo. They were both graduates of Penn Yan Academy. - Geneva DailyTimes February 18, 1942
WWII Draft Registration
He enlisted in the Army on 4 Mar 1943.
Mrs. John Finger (Louise Dains)
has received a cablegram from her husband, Pvt.
John Finger
, who has arrived in England. -
Chronicle-Express
March 2, 1944.
He is referred to as Private
John H. Finger
of Miami Beach, Florida in his father's obituary. -
Geneva Daily Times
June 24, 1943