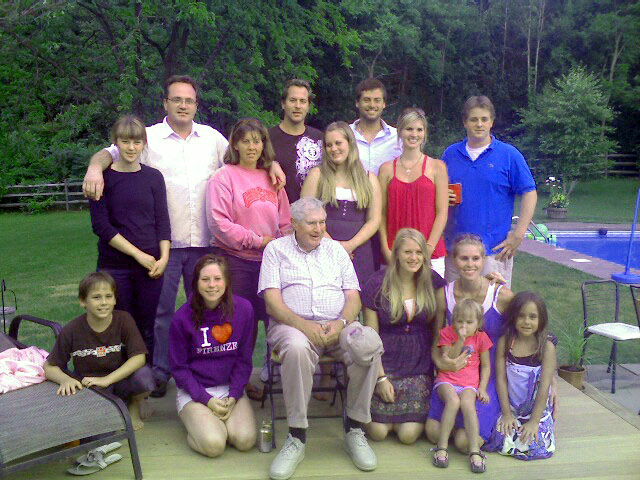 Found him on the 1930 Germantown, Columbia, New York census, age 9 months.
He received the Distinguished Citizen Award in 2003.
GERMANTOWN—Peter F. Fingar, 92, of Germantown passed away March 29, 2022. Born July 5, 1929 in Hudson, he was the son of Luther B. and Lorinda (Rockefeller) Fingar.
He was a lifelong resident of Columbia County. For more than 60 years he was president and broker of the insurance firm his father Luther founded in 1931. Fingar Insurance Agency continues to this day under the leadership of his sons and grandchildren.
Devoted to his community and charitable organizations, his involvement was immeasurable. He is a longtime member and past president of the Germantown Lion's Club; past commodore of the Catskill Yacht Club; member of the Roe Jan Boat Club; elder, deacon and vice president of the Reformed Church of Germantown; past director of the Columbia County Chamber of Commerce; life-member of Germantown Fire Co.; member of the Germantown Planning Board, Columbia Memorial Hospital Board of Directors, and the Columbia Memorial Hospital Foundation. Mr. Fingar was also a member of Hudson Widow's Son Masonic Lodge #7, and was honored in 2003 as Distinguished Citizen of the Columbia County Association in the City of New York.
He will be remembered and forever loved by: his four children, David (Linda) Fingar, Lorinda (James) Rausch, Gregory (Donna) Fingar and Mark (Susan) Fingar; 11 grandchildren and 19 great-grandchildren.
He was predeceased by his wives, Constance (Haines) Fingar in 1981, and Martha (Schulz) Fingar in 2013, and a brother, David Fingar.
Funeral services are Saturday April 2, 2022, 11 a.m. from the Reformed Church of Germantown. A celebration of his life will immediately follow at the Central House in Germantown. In lieu of flowers, memorial contributions may be made to the Reformed Church of Germantown. Arrangements are with the Bates and Anderson – Redmond and Keeler Funeral Home, Hudson.